Our Logistics Centre with the Intermodal Container Terminal is the first such facility in the Podlasie region and is located 27 km from Białystok, 25 km from the expressway S8 and 10 km from the approved route of the new S19 expressway.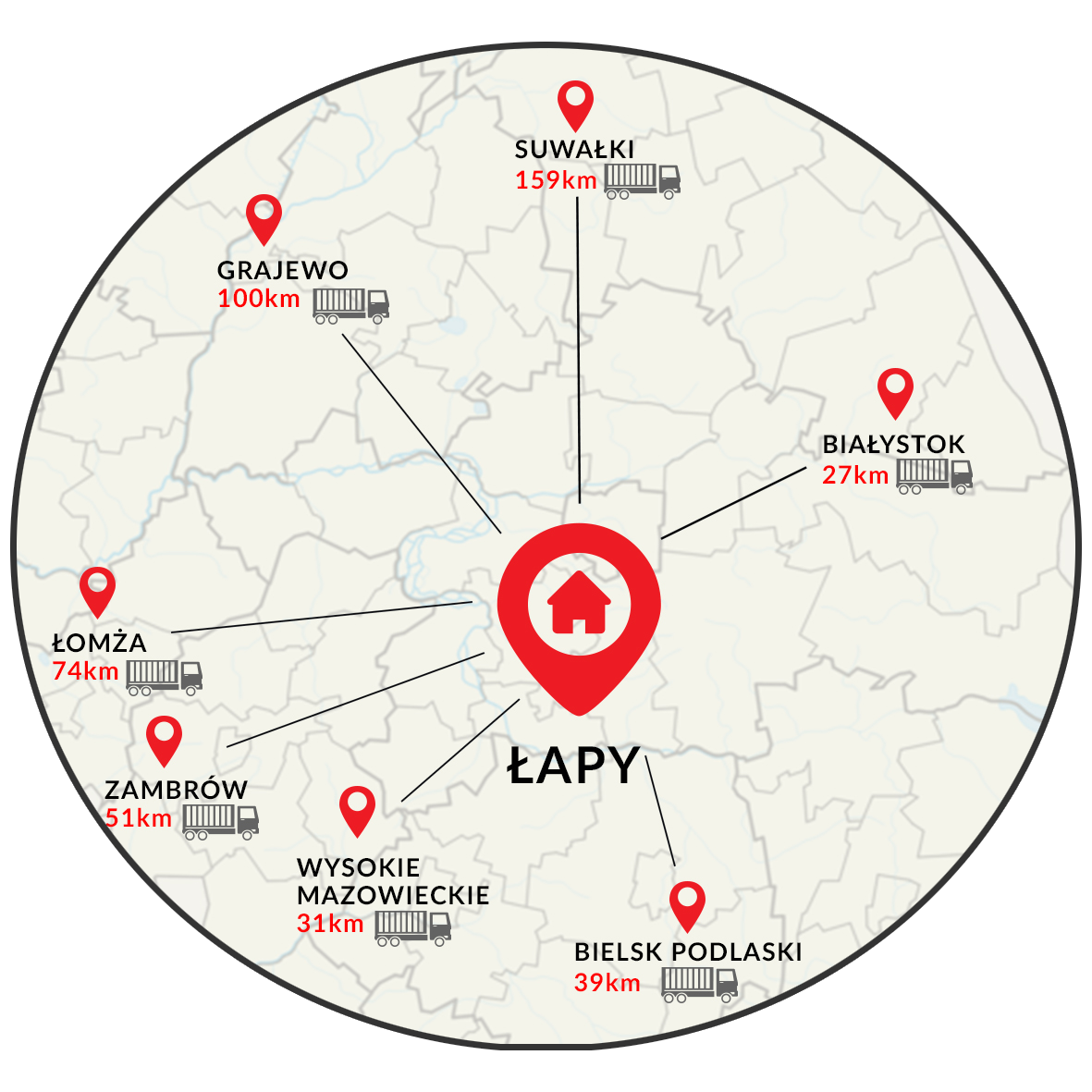 WHY?
In order to meet the growing needs of the logistics services and intermodal transport market, we have created an innovative solution in this part of the country.
HOW?
We support the development of our clients by offering a full range of logistics and terminal services based on modern IT systems, and thus reducing costs and optimizing processes.
WHAT?
We have a modern A-class warehouse with a Container Terminal, which has the potential to affect the economic development of north-eastern Poland.

TERMINAL SERVICES
The offer of terminal services includes:
– storage and trading of containers
– road transport of containers to the customer
– handling of swap bodies and semi-trailers
Additionally, we guarantee isothermal container handling, cleaning and documenting the condition of the containers as well as weighing and sealing the containers.
Equipment
2 reachstackers with a lifting capacity of 46 t
IT infrastructure
ADC – Automatic Data Capture
Information system
Terminal Operating System
Infrastructure
2 unloading tracks and a sidetrack
Information system
Warehouse Management System
STORAGE SERVICES
Our offer includes:
– full range of logistic outsourcing services
– warehouse space rental
– rental of office and staff areas for the purpose of warehouse management.
The location of the Kontrast Logistics Centre is excellent when it comes to the conditions of Polish transport. As a result, freight planning is much easier. We also ensured proper standards of warehouse and terminal functioning so that the process of loading and unloading the goods went smoothly.
Contact
Address:
Nilskiego-Łapińskiego Street 46,
18-100 Łapy

Logistics
M: +48 695 140 685
E: bielski@kontrast.net.pl
Terminal
M: +48 885 140 290
E: bielski@kontrast.net.pl